Appliance Service YYC offers reliable, same day GE Fridge repair services in the Calgary area!
We answer your service call faster! Book your appointment right now, call 403-879-0967 or book online here!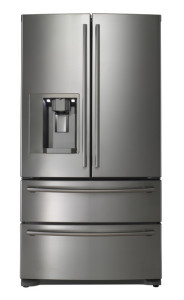 Experiencing issues with your fridge today? Our technicians can help by providing same day service for most common issues. If required, we have the necessary parts so that you don't need to wait days or weeks for your fridge to be fixed. This is why many clients like you chose Appliance Service YYC when it comes to same day appliance repair.
If the technician is able to diagnose and fix the issue with no need for an actual repair, you only end up paying for the service call.  Yes, this does happen! Don't take risks by hiring a fly by night guy with a van who you will not be able to reach thereafter, call the experts today at 403-879-0967!

If your fridge is not working correctly you need to act quickly to ensure food and drinks do not go bad. For this reason, Appliance Service YYC offers affordable, same day GE Fridge repair.
GE Fridges come in numerous models for your home. These include french door refrigerators, side by side door refrigerators, bottom freezer refrigerators, top freezer refrigerators and wine chillers. Appliance Service YYC is experienced in identifying the problem with your GE Fridge no matter what style you own.  Our technicians will repair your appliance in a convenient manner.
Common problems with GE Fridges:
Ice maker is not working
Fridge is leaking
Freezer is not keeping food frozen
Fridge is making strange noises
Fridge is not keeping food and drinks cold
Sweating is occurring in the food drawers
The water dispenser is not working
If your GE fridge is demonstrating any of the above problems it's important to contact Appliance Service YYC as soon as you can. The quicker you call the sooner we will be able to have your fridge working again.
Many homeowners choose GE fridges for their kitchen as they are a top rated brand, provide Energy Star models, and demonstrate the latest fridge technology. These quality made appliances make GE fridges popular amongst Canadians. Unfortunately, even top of the line appliances end up having glitches at some point.
Some of the newer GE fridges include hands free auto fill, advanced filtration, hot water dispensers, climate control for different sections of the fridge, temperature control for drawers and more! With advancing technology and fridges constantly adding new and exciting features,  problems are likely to arise.
To keep your modern fridge operating all of its latest features contact Appliance Service YYC as soon as you observe an issue! To book your same day appointment call us now at 403-879-0967 or book your appointment online here!
Appliance Service YYC offers a full service warranty for your GE Fridge repair!
Our repair service comes with a full warranty and a free service call when you choose Appliance Service YYC! No matter what the problem is that you're having with your GE Fridge, call us at 403-879-0967and we will send a repair technician to your home as fast as possible to solve the issue. You will be happy with our professional and convenient service! Your satisfaction is always guaranteed!
Appliance Service YYC provides GE Fridge repair in the following areas:
Calgary
Strathmore
Okotoks
High River
Airdrie
Delacour
Turner Valley
Black Diamond
Bragg Creek
Foothills
De Winton
Priddis
Redwood Meadows
Bearspaw
Aldersyde
Langdon
Conrich
Chestermere
Balzac
Cochrane and more!
To have your GE Fridge fixed in a timely and efficient manner give us a call today at 403-879-0967 or book your appointment online here!